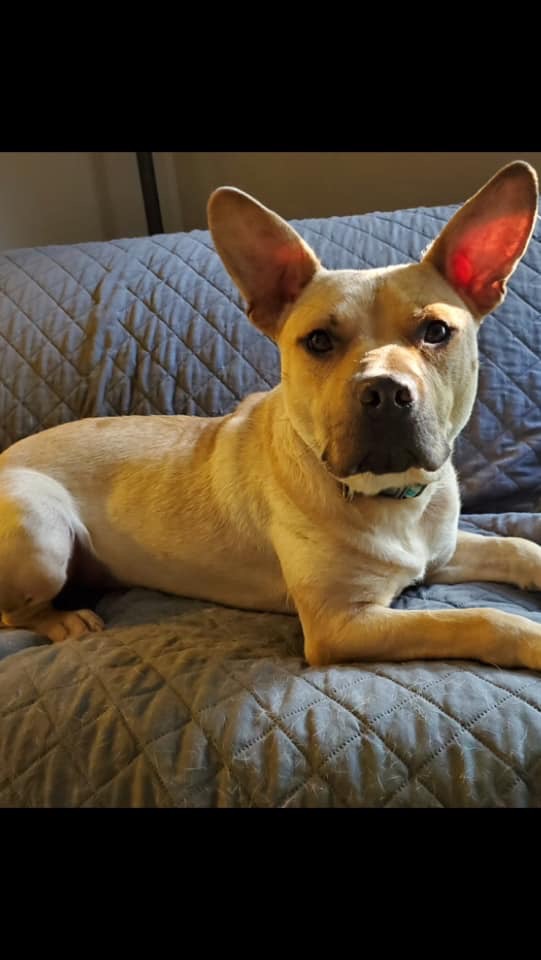 Peanut
Get your tissues ready‼️
Introducing Peanut ❤️❤️
Peanut is a 1-2 year old, Staffordshire terrier mix. Peanut was found as a stray with some terrible wounds, and battle scars from what is believed to be human related. Peanut was fearful, and unsure of a lot of things in the beginning. I visited with peanut a few times during his recovery at the vet. After a lot of treats, and baby talk, he decided that he would like to join the Animal Friends family!
Peanut has spent the last 6 weeks, healing, and learning how to be a dog again. After a few bags of food, lots of love, treats, visitors, and training with our staff, he has made HUGE strides. He has discovered his love for Peanut butter, toys, walks, lunch time with the staff, car rides, couches, windows, and beds!
We will never understand how Peanut was so mistreated in the past. This guy has nothing but love to offer from here on out! He is kennel trained, potty trained, cat & dog friendly, his leash training improves daily, and there isn't anything he will not do for a treat!! Peanut has had no issues with children, but due to his activity level, we will only allow him to go with a family, with older children!
Peanut will need a home that can provide him with enough space for his random zoomies, lots of toys, a comfy couch, a window to look out, patience & time to continue his training, and a lot of love! He would benefit greatly from a family that will include him, within an active lifestyle!!
Peanut has been neutered, is up to date on core vaccines, has been dewormed, and given flea & tick preventative.
His adoption fee is $85 but his potential adopter still needs an approved adoption application.
HOW OUR ADOPTION PROCESS WORKS:
Our adoption application can be found on our website at animalfriendswv.org 👈🏽👀
Potential adopters can email us this application, bring it with them to the shelter, or fill one out here! Our email is afwvdirector@gmail.com or fax it to 304-292-2043 ! 📩
This application takes at least a business day to process, so sending it in gets the process going! 📆
The quickest way to get ahold of us about an animal is to message us on here or EMAIL us. 📧
Always remember to spay and neuter your pets 🐶🐱 Call us for a voucher! 304-290-4738
To adopt an animal, please fill out an adoption application before visiting the Sanctuary. This speeds up the adoption process. All adoption applications require a reference check from a previous or current veterinarian and other references as needed.
Four Ways to Send An Adoption Application
Mail to P.O. Box 1090, Dellslow, WV 26531
Hand-deliver it to the Sanctuary.
The $85 adoption fee covers all vaccinations, heartworm and feline leukemia/FIV (feline immunodeficiency virus) testing, de-worming, and spay or neuter procedure.

Adoption Checklist
So, you think you're ready to adopt a pet? Check out the checklist below.
Browse available pets on the website.
Make time to come visit the animal shelter and meet your new friend.
Fill out the Adoption Form and submit it.
Pay the $85 Adoption Fee.
Take your new best friend home.
If you choose not to keep your adopted pet, contact Animal Friends at 304-290-4738, and we will make arrangements to re-enter the pet into the foster/adoption program. Your adoption fee is non-refundable.