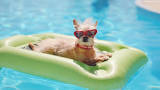 DOG DAY IN THE POOL 2017
Sunday, August 20,
10 a.m. – 4 p.m.
Marilla Pool
Mark your calendar!
You won't want to miss this!  What could be more fun than watching your dogs frolic with their friends — both canine and human — at Animal Friends' annual Dog Day in the Pool.
Along with a lot of splashing, there will be contests — dog-owner look-alikes; dog-celebrity look-alikes; longest dive, swim relay, and more.  Prizes will be awarded for oldest, youngest, smallest, and largest swimmers.
And that's not all!  Concessions will be available, and T-shirts and dog biscuits will be on sale, with all proceeds supporting Animal Friends' no-kill animal shelter.
We hope you'll join us for a tail-wagging good time!