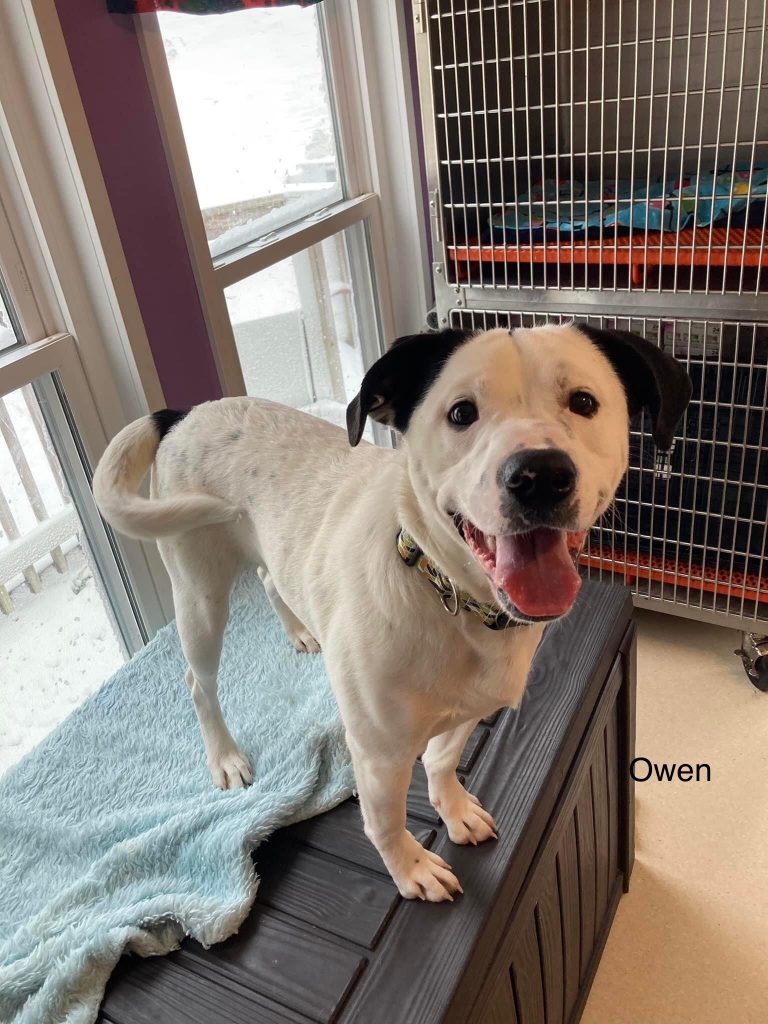 Owen (male)
Introducing Owen 💙🎾
Owen is a 1 year old, 40-45lb mixed breed of who knows what! He is the happiest dog on the planet currently, and is happy to be with us, and out of puppy jail. Owen was surrendered due to his activity level. And we love his energy, in fact we wish he would share some of it! Owen loves playing fetch, and based off of his jumping ability, he would probably be a master frisbee dog. He will do anything for a treat, or a ball. He loves to go for walks, and is always down for a car ride. Owen currently loves playing with his roommates and spending time with shelter staff. He does well with submissive dogs, and has interest in kitties. We will find out more about the kitties soon! Owen LOVES people, and got really excited to see a few kids that made a visit this week.
In the right home he's going to be a dream dog. He's going to be someone's best buddy, and we can't wait to help make that happen! A fenced in yard would suit him so that he could chase his balls or frisbee all day long. An active family, and older kids to help tire him out is at the top of our list!
Owen is learning to love his kennel, and his potty skills are getting better each day! He will be available once his neuter is complete. He is up to date on core vaccinations, has been dewormed, given monthly flea and tick preventative, and is HW/LY negative.
His adoption fee is $125 but any potential adopter still needs an approved adoption application.
HOW OUR ADOPTION PROCESS WORKS:
Our adoption application can be found on our website at animalfriendswv.org 👈🏽👀
Potential adopters can submit the application directly on our website! Any questions can be answered via email @ afwvdirector@gmail.com
This application takes at least a business day to process, so sending it in gets the process going! 📆
The quickest way to get ahold of us about an animal is to message us on here or EMAIL us. 📧
Always remember to spay and neuter your pets 🐶🐱 Call us for a voucher! 304-290-4738. still needs an approved adoption application.
To adopt an animal, please fill out an adoption application before visiting the Sanctuary. This speeds up the adoption process. All adoption applications require a reference check from a previous or current veterinarian and other references as needed.
For questions or inquiries please email us at afwvdirector@gmail.com.
The adoption fee covers all vaccinations, heartworm and feline leukemia/FIV (feline immunodeficiency virus) testing, de-worming, and spay or neuter procedure.

Adoption Checklist
So, you think you're ready to adopt a pet? Check out the checklist below.
Browse available pets on the website.
Fill out the Adoption Form and submit it.
Schedule an appointment to visit the shelter and meet your new friend.
Pay the Adoption Fee.
Take your new best friend home.
If you choose not to keep your adopted pet, contact Animal Friends at 304-290-4738, and we will make arrangements to re-enter the pet into the foster/adoption program. Your adoption fee is non-refundable.