The Animal Friends Thrift Shoppe allows us to offer great bargains to our customers and, most importantly, provides much needed support for our Animal Friends Sanctuary, where unwanted, abandoned, and abused animals await adoption.
Founded by Animal Friends of North Central West Virginia for the purpose of providing funding for building and maintaining a no-kill shelter, the Animal Friends Thrift Shoppe, formerly Lucky's Attic, has been in operation since 2003, thanks to community donations and patronage and the good will of a volunteer staff.
Proceeds from the sale of the new, antique, and gently used items that are donated benefit directly those who are most needy—our animal friends–so visit our shop and help us to help them.
We're currently stocked with merchandise and our welcome mat is out, so come visit the Animal Friend's Thrift Shoppe, located across from the Senior Monongalians in the Mountaineer Mall.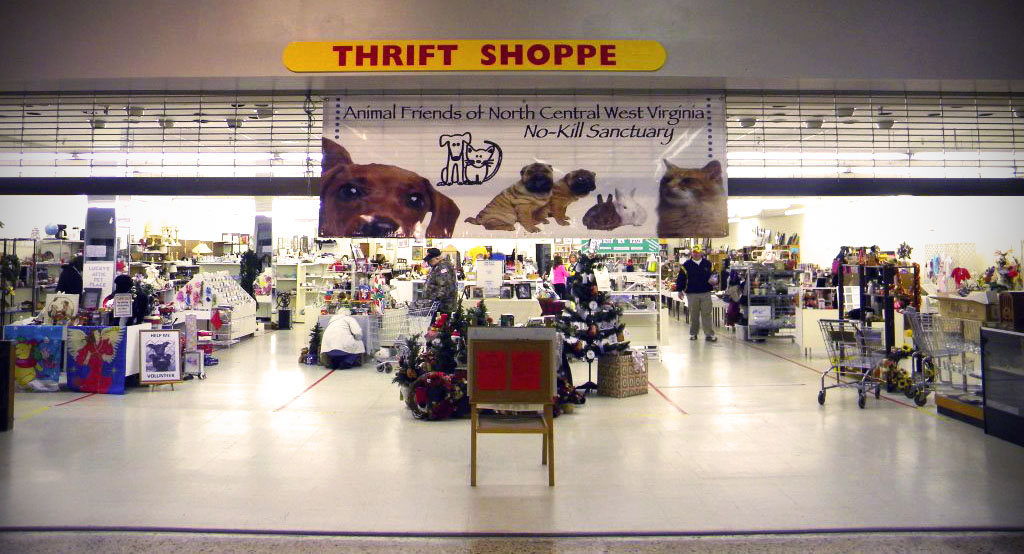 Directions to the Thrift Shoppe:
From the intersection of Greenbag Road and Don Knotts Boulevard, turn onto Route 857 East.
Turn right at the traffic light and travel up the hill.
Turn left at the first road into the Mall and drive around the building until you see the large Teletech sign.
Look to the right of Teletech for the Mall Entrance sign. Enter there.
Follow the hallway around a few turns and past the Senior Monongalians suite, which is on the left.
To drop off donations at the back door:
Follow the directions above to the Mall Entrance sign. Then look further to the right to a long sidewalk wide enough for a vehicle.
At the end of the sidewalk is a door with a sign for Animal Friends and a doorbell.
Items can be delivered during Shoppe hours — Tuesday: 11:00 a.m. – 5 p.m.; Thursday, Friday: 11 a.m. – 3 p.m.; Saturday: 10 a.m. – 3 p.m.
Help with unloading is available curbside at the Shoppe on Tuesdays from 11 a.m. – 2 p.m.
If you need assistance or need to have items picked up, call 304-290-0161 or email kso91221@aol.com.
Shoppe Hours: Tuesday:  11 am – 5 pm, Thursday, Friday: 11 a.m. – 3 p.m.; Saturday: 10 a.m. – 3 p.m.
Phone Number: 304-291-5825 during Shoppe hours; 304-290-0161 after hours
Shoppe Location: Mountaineer Mall, 5000 Greenbag Road, Suite 10, Morgantown, WV 26501
Mailing Address: P.O. Box 1090, Dellslow, WV 26531